A sales chart compiled by an independent source has revealed that Tesla dominated the U.S. EV market in the first half of 2020.
Four Tesla cars featured in the top 5 list, with the Model 3 reportedly topping the first half EV sales charts in the U.S.
The company's newest car, the Model Y, was also very popular during in the first six months of 2020, while the Chevy Bolt is the only non-Tesla car to feature in the top 5.
Tesla is one of the few car manufacturers today that is continuing to see success when other manufacturers are pushing release timelines and delaying existing projects. As per new data put together by Buy Shares, Tesla held 81.66% of the American EV market in the first half of 2020.
---
---
Though overall EV sales are down, it's clear that the American EV market is still dominated by Tesla. Interestingly, four among the top five cars on this list are made by Tesla. It's also worth noting that Tesla cars are not eligible for the $7,500 federal tax credit as Tesla has completed the 200,000 sales threshold some time ago.
A large part of the company's push has been the Model 3, which remains the highest selling EV in the U.S. The fact that the Model Y also features on this list can be largely attributed to the fact that it was launched a few months ago and is gradually making its way to Tesla's markets outside the U.S. and Canada.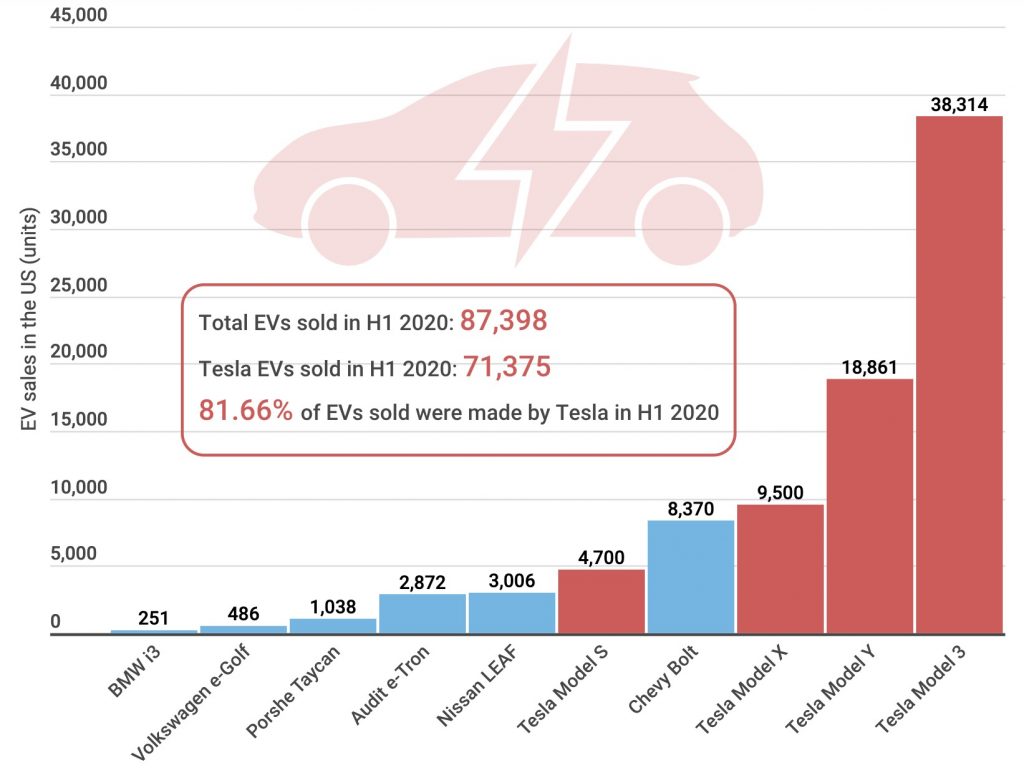 As you can see, the only non-Tesla car among the top 5 is the Chevy Bolt, which has been immensely popular in the American markets for a few years now. The BMW i3 ranked the lowest in this chart by selling only 251 units in the first half of the year.
---
---
The Model Y competitor, Porsche Taycan was placed in the 8th spot having sold only 1,038 units in the period. Cars like the Nissan LEAF and Audi e-Tron have shown to be decent performers in the U.S. market, though these manufacturers are nowhere close to Tesla's market share.
As for this chart, not all of Tesla's first half sales are included as the company doesn't disclose sales data and vehicle registration data is not available all over the U.S.
With Tesla expected to unveil cars like the Cybertruck late next year or in 2022, the company's hold on the market could only get stronger.
---
---
Source: BuyShares
Via: Electrek