Hypervolt and Hypervolt Plus are two of the well-known models of percussion massager or massage gun.
If you are suffering from muscle tightness or soreness, or you just simply want to relieve yourself of back pain after a day's work, a massage gun can greatly help.
Knowing and understanding the differences between Hypervolt vs Hypervolt Plus allow you to make the right choice if you want to buy a well-made massage gun.
How Massage Guns Work
In an article published by Cleveland Clinic, Physical therapist Gary Calabrese, DPT explained how a massage gun works.
He mentioned that these machines are like a mini hammer that repeatedly impacts the soft tissue, increasing the blood flow to the affected area.
Dr. Calabreses added that the gentle pressure can also decrease tight muscle tissue and soft scar-like tissue (adhesions) which in turn elongates the muscle fibers.
Moreover, in the same article, Dr. Calabrese stated that if used properly, portable massagers are safe and effective in providing a quick hit relief to the areas of the body where you often carry stress. These areas may include the shoulders, neck and lower back. He finds the portable massagers effective in warming up the muscles before activity.
Additionally, some therapists also claim that percussion massagers generally promote increased mobility among those people with certain mobility issues. These machines can be effective in addressing a wide variety of issues that concern the muscles.
Since its introduction in 2008, there has been a global demand for massage guns, especially among professional athletes. And two of the top-selling massage guns are the Hypervolt and the Hypervolt Plus.
Hyperice: The Company Behind Hypervolt and Hypervolt Plus
Hyperice is the company behind the more well-known massage guns Hypervolt and Hypervolt Plus.
Since its establishment in 2010, Hyperice has been specializing in percussion, vibration and thermal technology.
The company created the Hypervolt massage gun to give people easy and convenient access to a solution for non-severe myofascial pain. They claim that because of the lower frequency used in their massage guns, they may help aid intramuscular stiffness.
Moreover, the company also introduced the Hyperice app to help users reach their fitness goals. The app features instructional videos and guides that explain how you can maximize the use of their devices.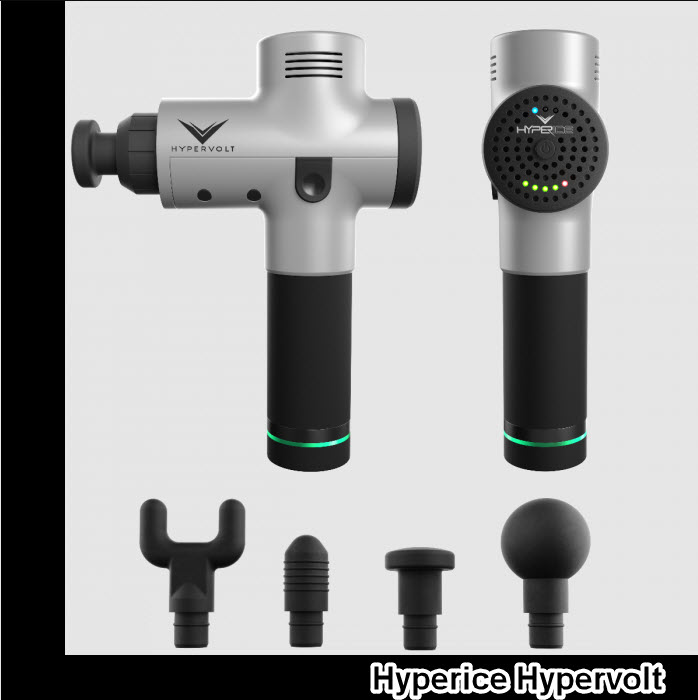 What is Hypervolt?
Hyperice Hypervolt is a deep tissue massage gun that you can conveniently use for muscle pain, soreness and muscle tension relief. It is also designed to suit people who exercise regularly such as athletes as it aids in muscle recovery.
Hypervolt is the base model for Hypervolt Plus. It features Bluetooth connectivity, allowing you to connect to the Hyperice application on your smartphone.
Some of the important features of Hypervolt include:
Three levels of Hyperice Pressure Sensor Technology which can give you an indication of the level of pressure applied to the affected area.
Three-speed levels that can reach up to 3,200 percussions per minute (ppm)
Five head attachment designs to suit your needs.
Rechargeable lithium-ion batteries with up to 3 hours of usage.
Rubberized handle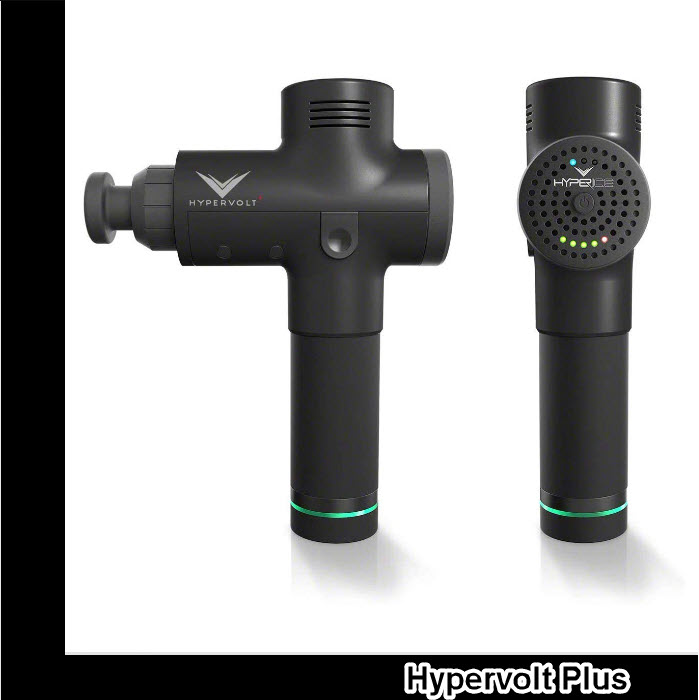 What is Hypervolt Plus?
Just like Hypervolt, the Hypervolt Plus also has Bluetooth to connect to the app and maximize the use of the device. It also comes with notable features such as:
Three levels of the pressure sensor
High torque motor power of 90 watts
Three-speed settings that have a maximum of 3,200 ppm
Quick battery recharge and 30% more power than Hypervolt
Five head attachments
Rubberized handle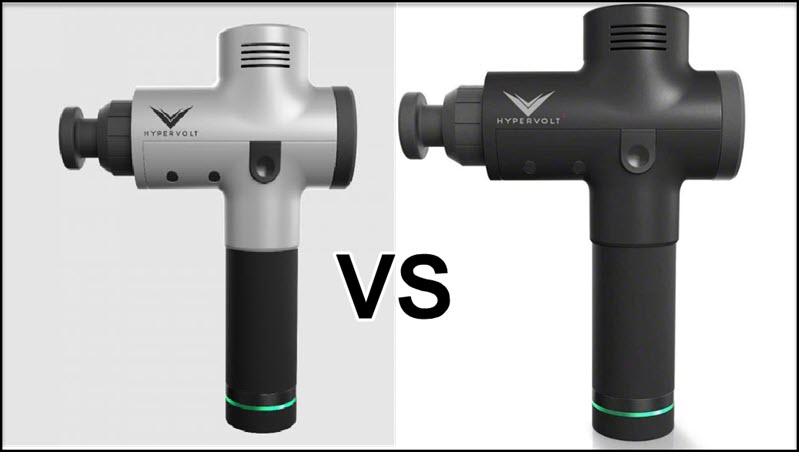 Notable Differences of Hypervolt vs Hypervolt Plus
Hypervolt vs Hypervolt Plus: Uses
Hypervolt is designed for vibrational therapy, more like a surface-level massage. It only hits the affected area at about 10mm deep at high frequency. This is enough to ease your muscle tension, improve blood flow and heal muscle soreness. However, it cannot perform deep tissue massage as Hypervolt Plus does.
The Hypervolt Plus is more effective in percussion therapy. It has a more powerful motor and its head travel is 40% longer than Hypervolt. What this means is that it can provide a deeper massage to the bone and it also works on larger muscles.
Hypervolt vs Hypervolt Plus: Motor
When it comes to the physical specifications, the motor is the primary differentiating factor between these two models.
The Hypervolt has 60 watts while the Hypervolt Plus has 90 watts. The difference in wattage impacts the hardness or amount of force applied to the body area.
As Hypervolt Plus has a high torque motor and uses extra power, it offers more pressure and stronger strokes each time. Because of this advantage, this model is more preferred by athletes and those who are into muscle recovery.
Hypervolt vs Hypervolt Plus: Battery Life
Between these two devices, Hypervolt has a slightly longer battery life than Hypervolt Plus. This could be due to the fact that the latter requires more power to work.
On average, the original model can last about three hours while the Hypervolt Plus can only last up to 2.5 hours.
Generally, this difference in battery life is not very significant because it does not affect your massage experience. Also, most users do not totally empty the battery in one use. You can easily power up the rechargeable lithium-ion battery anytime.
Hypervolt vs Hypervolt Plus: Price
Looking at these two models of Hyperice massage guns, there is a significant difference in their prices of about $100. And more often, customers will make a decision based on this factor.
While it is true that Hypervolt Plus is more ideal for percussive therapy, the price gap can make those who are on a tight budget think twice, and choose the cheaper Hypervolt instead.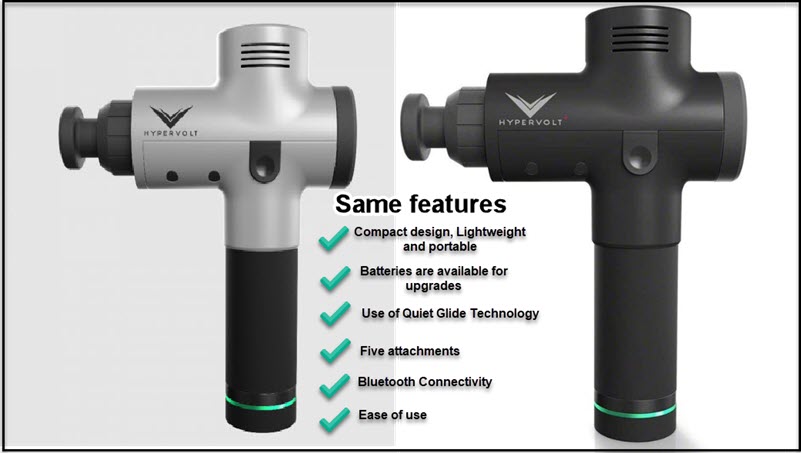 Same Features Between Hypervolt Bluetooth and Hypervolt Plus Bluetooth
While the two percussion massagers have significant differences, they also share many common features.
Compact design, lightweight and portable
Although these two slightly differ in weight by about half a pound, both are lightweight and portable. The original Hypervolt weighs 2.5 pounds while the Hypervold Plus weighs 3 pounds. This is not a huge difference in weight, and you can barely notice it.
These massagers come with a carrying case that you can easily put in your gym bag and use anytime. They can help improve performance by protecting their motors over time.
Batteries are available for upgrades
Out of the box, one battery and a charger are already included. However, you can also upgrade to different battery sizes at an extra cost.
Use of Quiet Glide Technology
Even with increased amplitude, these massagers run quietly at around 55 to 65 decibels. This allows you to use the massager without disturbing others.
Five attachments
Both models come with five different head attachments for custom-fit use. The attachments include:
Standard Ball
Damper
Thumb
Plate (flat head)
Fork
Bluetooth Connectivity and Access to the App
Both devices are capable of connecting to your smartphone via Bluetooth. This allows you to access the Hyperice app and optimize the use of your device.
With the app, you can sync your physical and digital activity for a customized experience.
The HyperIt's a great app that promotes overall wellness. It features advice from a team of scientific advisors using the information from your daily activity and fitness data from App Health, Strave and Garmin among others.
Ease of use
Another good thing about these two models of massagers is their ease of use. Changing the attachments is very easy and you can do it without using any extra tool. You can also automatically change speeds with a press of a button.
Moreover, since you have full control of the device, you can customize the stroke length depending on how much pressure you want to apply to a specific area of your body.
Looking at the overall design of these massagers, you can tell that both the Hypervolt and Hypervolt Plus are designed with the users in mind. The availability of different attachments, speed and stroke settings allows users to easily diversify their massage experience.
Which Model Should You Choose?
With the many similarities between these two models, it can be hard to make a decision on which one to pick. That is of course if the extra $100 is not a big deal for the higher model.
But setting the price consideration aside, your decision should be based on your personal needs.
If you just need a massager for vibrational therapy, you don't need the extra power that Hypervolt Plus can offer. The original Hypervolt should be sufficient for you.
On the other hand, if you are looking for a real percussion massager that is ideal for an aggressive massage regime, then it's worth forking out the dough to get the Hypervolt Plus. It is a more popular option among professional athletes and those who frequent the gym.
Conclusion
If you are torn between Hypervol and Hypervolt Plus, it's a good idea to go back and read what each model has to offer. Understanding the differences between Hypervolt and Hypervolt Plus allows you to make a better decision when it comes to picking the right device for your specific massage needs.
Both Hypervolt and Hypervolt Plus are great investments in the long run because of the benefits they can offer. However, the key to getting the most of your money is knowing which product best suits the massage requirements of your body.