Honda has unveiled a new interior design concept/philosophy, calling it "Simplicity and Something," accompanied by a rendering. 
Familiar Honda design aspects have been retained here, though there are some new additions, including a transparent infotainment system with physical control buttons.    
Honda hasn't specified when this design will be introduced with a production model, so it may take a while.
Just days after Honda announced that it's going "All-EV" by 2040, the company has shown off a new interior design concept. While automakers usually spend plenty of time revealing exterior design philosophies, Honda takes a slightly different approach. The company calls this new interior design "Simplicity and Something." 
The rendering shows full-width air vents accompanied by three climate control knobs. There's a transparent infotainment screen shown in the rendering, which is mounted at a high angle.
The infotainment display can be controlled with physical buttons right below them. Though some form of voice control is expected to be available with this setup, Honda hasn't confirmed this yet.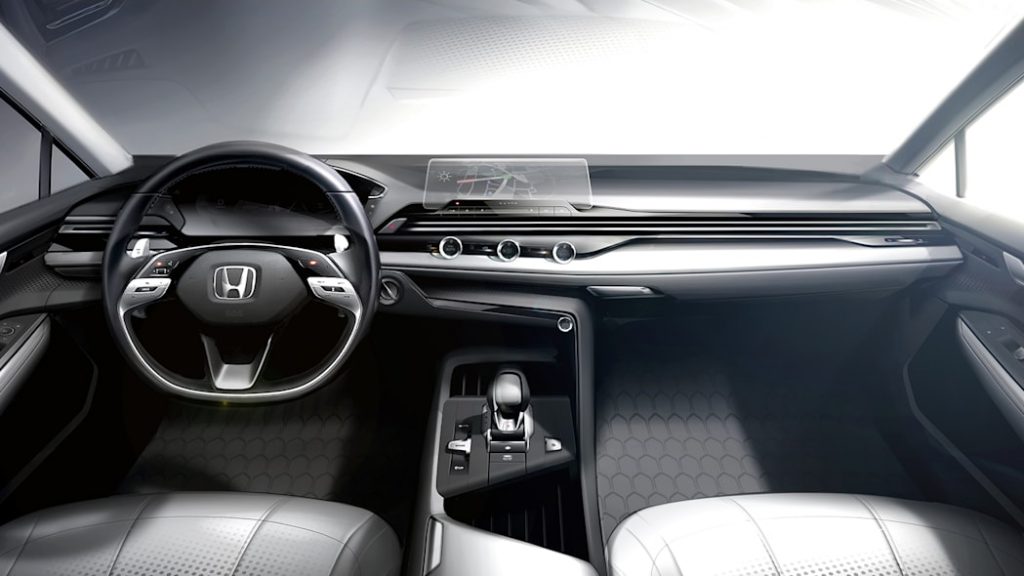 Unfortunately, there's very little we know about when this interior will reach a production vehicle. However, as with any concept, the manufacturer will likely make some minor tweaks before bringing it to the market. Some of these details, particularly the full-width air vents, can be seen on some of the recent Honda cars.
Though the concept is pretty exciting, we're not holding our breath to see an automobile with this interior design anytime soon.
However, given Honda's recent announcement about an EV and hydrogen fuel-cell-based future, it's likely that the company will show off a production model with this interior design sooner than expected. Many have argued that Honda is somewhat late to the EV party, given that it decided to spend most of its time with hydrogen fuel cells and hybrids.
While manufacturers like Tesla, Ford, General Motors are already on their way in the EV industry, Honda has a lot of catching up to do.
What do you make of this interior design? Let us know in the comments below.
Via: Autoblog