Tesla could be rolling out more bugfix software updates to the latest 2020.20.5, or it could be rolling out specific updates for the Model Y, but either way, the latest and greatest Tesla software update is now rolling with version 2020.20.11.
According to Teslascope, they just detected a Model Y in Arizona receiving this newest update.
As expected, the 2020.20.5 software update from a couple days ago contained mostly the same features as the 2020.20.1 update. The only difference is the addition of a routine GPS update. So don't expect new features in this latest 2020.20.11 software update.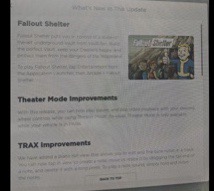 GPS Update
Bethesda's Fallout Shelter
Theater Improvements
TRAX Improvements
Here's some preview of what the game would look like for you to enjoy in your tesla.
The official tesla software update version is the 2020.20.11 b47457a9356a.
Tesla 2020.20.5 Release Note
GPS Update
We have updated your car's GPS to improve its stability and tracking. Please note that with this update, the GPS in your car will temporarily recalibrate once after the update, which might cause a few minutes delay in where updating your car's position is displayed on the map.
Fallout Shelter
Fallout Shelter puts you in control of a state-of-the-art underground Vault from Vault-Tec. Build the perfect Vault, keep your Dwellers happy, and protect them from the dangers of the Wasteland.
To play Fallout Shelter, tap Entertainment from the Application Launcher, then Arcade > Fallout Shelter.
Theater Mode Improvements
With this release, you can now play, pause, and skip video playback with your steering wheel controls while using Theater Mode. As usual, Theater Mode is only available while your vehicle is in PARK.
TRAX Improvements
We have added a piano roll view that allows you to edit and fine tune notes in a track. You can now tap in view to create a note, move or resize it by dragging the tail end of a note, and delete it with a long press. To play a note sound, simply hold and move the notes.

In addition, when you tap the record button, a metronome beat will play to make it easier for you to record at the desired time.

This release contains minor improvements and bug fixes.

[ajax_load_more single_post="true" pause_override="true" single_post_target=".inside-article" post_type="post" scroll_distance="-200" single_post_taxonomy="post_tag" single_post_order="previous"]