Tesla has updated its online configurator to reflect the delay in the arrival of the Model S Plaid Plus that was refreshed alongside standard Model S variants this January.
Shortly before updating the delivery timeline, Tesla updated the configurator to reflect a $10,000 price increase for the Plaid Plus variant.
Customers can still get the basic Model S Plaid, a cheaper alternative to the Model S Plaid Plus.
In an update to the online configurator, Tesla has now pushed the Model S Plaid Plus' delivery timeline to mid-2022. This came a few hours after the company updated the website to reflect a $10,000 price increase for the Model S Plaid Plus.
---
---
It's worth noting that Tesla previously said that the Plaid Plus version of the Model S would only arrive by late 2021, so this appears to be a six-month delay beyond the original delivery timeline.
What makes the Plaid Plus version stand out from the recently refreshed Model S lineup is the 4680 battery cell and Tesla's structural battery pack architecture. While there's no denying that the technology is groundbreaking, Tesla could be facing some bottlenecks in bringing this technology to the fore.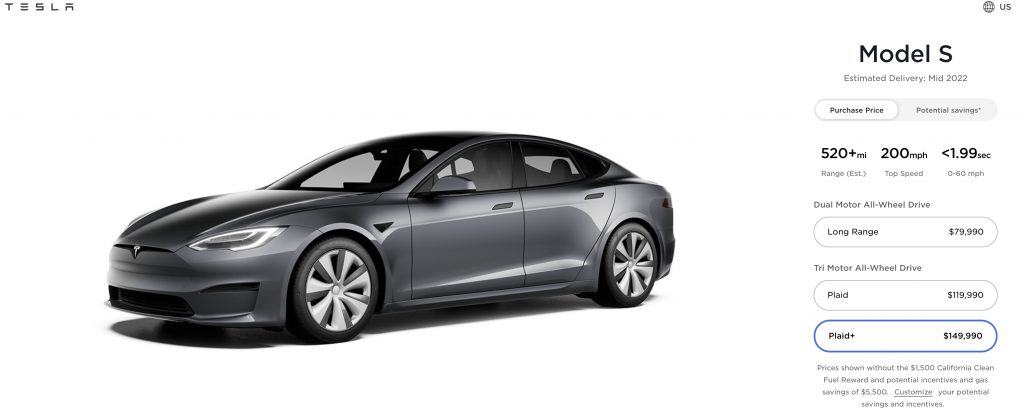 It's important to note that Tesla is not taking orders and only taking reservations for the Plaid Plus version. This allows the company more flexibility with the release timeline. The company hasn't explained the reason for the delay, though we expect to learn more in the days to come.
---
---
Busy 2021 for Tesla
Tesla has a lot on its plate for 2021. In addition to streamlining the deliveries of the standard Model S variants, the EV maker is also looking to bring its Full Self-Driving package in the form of subscriptions by the end of Q2 2021.
This could be a big move for the company, given that the FSD package can only be bought outright with the purchase of a Tesla automobile. Other rumors have suggested that the company may also consider allowing owners to transfer their FSD package to another user, though this could be some distance away.
---
---
Meanwhile, Tesla CEO Elon Musk has said that an update will be available on the Cybertruck by Q2, though no precise timeline was provided. However, it's clear that the company's ambitious pickup truck will take the markets by storm when it reaches the streets.
What do you make of the Tesla Model S Plaid Plus delays?
Via: Electrek
---
---