Just a little over two weeks since Tesla rolled out software update 2020.16, it appears now we are now onto the latest and greatest version 2020.20.
According to Teslascope, they have seen three Model 3 vehicles that received version 2020.20 today, which at least one of them located in California.
The release notes for the 2020.20 software update was posted in a reddit post, which shows the following features: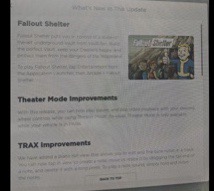 Bethesda's Fallout Shelter
Theater Improvements
TRAX Improvements
Here's some preview of what the game would look like for you to enjoy in your tesla.
The official tesla software update version is the 2020.20 1c89cdae7378.
Tesla 2020.20 Release Note
will post here once it's available…