Tesla has unveiled the "Model 3 All Weather Protection Kit which can keep your Model 3 from losing its color too soon.
It was found that Model 3 paint deteriorations were the highest in regions where salts and sand are used to combat snow during winters.
Tesla is offering a mud flap with a splash guard kit and a paint protection film kit, both priced at $50 and available via Tesla's official website.
Tesla has just unveiled the "Model 3 All Weather Protection Kit" aimed to keep the paint from deteriorating due to regular use. This is particularly the case in places where winters are the harshest and roads are dumped with salts and sand to help with the pileup of snow. Model 3 owners have mentioned that paint tends to go off much quicker in these conditions. This new protection kit is meant to keep cars from losing their color too soon, especially at the bottom of the car.
This will give customers a first-party solution to rely on rather than using mud-flaps or even aftermarket Paint protection film. In 2019, Tesla sent a memo to its Canadian staff that it would supply free mud-flaps for customers of the Model 3. This was dubbed the "All Weather Protection Kit" at the time.
Tesla currently offers two types of protections to Model 3 owners, with one being the Mud Flap/Splash Guard Kit while the other is a Paint Protection Film Kit, which also comes with a squeegee for easy application. The Mud Flap and Splash Guard Kit come accompanied by all the necessary hardware for assembly. Instruction videos can be found on Tesla's website.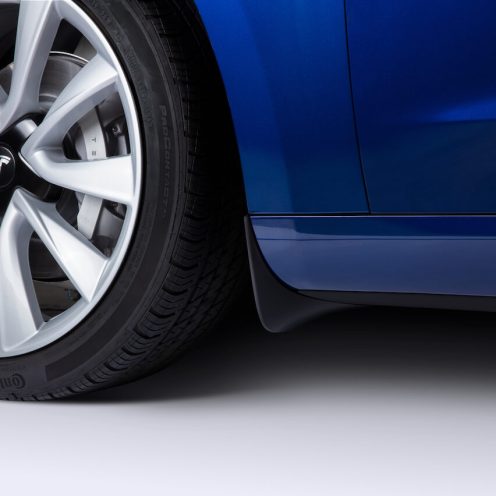 Either of these options will cost $50, which is pretty decent considering what it provides. Customers are expected to conduct installations on their own as Tesla hardware and service outlets apparently can't do it for you.
In many cases, it is found that using mud flaps solves the rapid deterioration of paint from your Model 3, which is some good news for owners. If you're a Model 3 owner concerned with the deterioration of paint on your automobile, be sure to give this a look.
Source: Tesla
Via: Electrek