In what has come as a surprise to many, Tesla has started taking orders for its mid-size SUV, the Model Y, in China.
These Model Y units will be produced at the Shanghai Gigafactory and will likely reach customers by Q2 2021.
The pricing of the Chinese Model Y is significantly higher than the American variant.
tesla appears to have ramped up its plans for the Model Y in China as the company is now taking orders for the mid-size SUV via the Tesla configurator. The company specifies that these Model Y units are produced in China, with the company reportedly setting up a separate building within Gigafactory Shanghai for the production of these vehicles.
Tesla China's VP, Tao Lin said last month that Model Y deliveries in the region will begin by early 2021. It seems like the company is well on course for that now as new orders are being accepted. Previously, Tesla China's website only allowed users to make reservations for the car.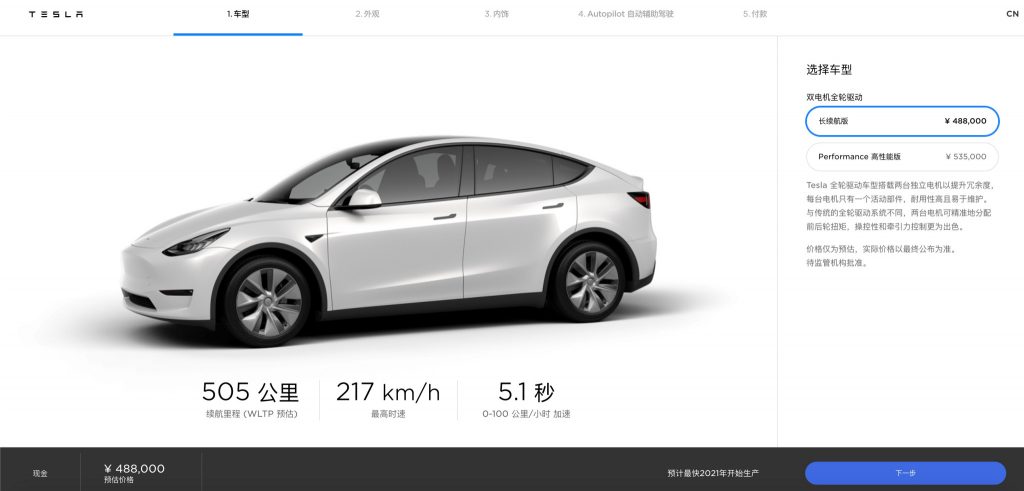 Just as it is sold in the U.S., the Model Y is offered in Dual Motor Long Range or Performance variants. The starting price of 488,000 CNY ($68,600) is pretty steep in comparison to the American pricing of the crossover where it starts at around $53,000. Tesla is listing a range of 505 km (313 miles) as per the WLTP cycle. As per the initial American EPA rating, the Model Y can run for 316 miles on a full charge.

Customers who place an order for the Model Y are also reportedly being told that the production of the vehicle will start as soon as 2021. There's some conflicting information coming through from Tesla on this, but it seems like Chinese buyers should get deliveries of the locally-made Model Y by April or May 2021.

The Tesla Gigafactory in Shanghai is where almost every Tesla sold in China is expected to be produced eventually. Tesla started making the Model 3 at the Shanghai factory late last year with units rolling out to the customers earlier this year. Subsequently, Tesla also launched the Model 3 Long Range RWD in the region.

Via: Electrek

[ajax_load_more single_post="true" pause_override="true" single_post_target=".inside-article" post_type="post" scroll_distance="-200" single_post_taxonomy="post_tag" single_post_order="previous"]