This is a huge step toward FSD for Tesla owners. In this latest version 2020.24.5.1 software update, FSD Autopilot will no longer require driver to confirm to pass through a green light if there is a lead car to follow.
Tesla Software Version 2020.24.5.1 Highlights
Traffic Light and Stop Sign Control (Beta)
Driving Visualization Improvements
Backup Camera Improvements
Dashcam Improvements
Walk-Away Door Lock Improvements
On-Route Battery Warmup
New Language Support
Cabin Camera
Here is more details from a test user on Reddit that posted the message from Tesla regarding this update.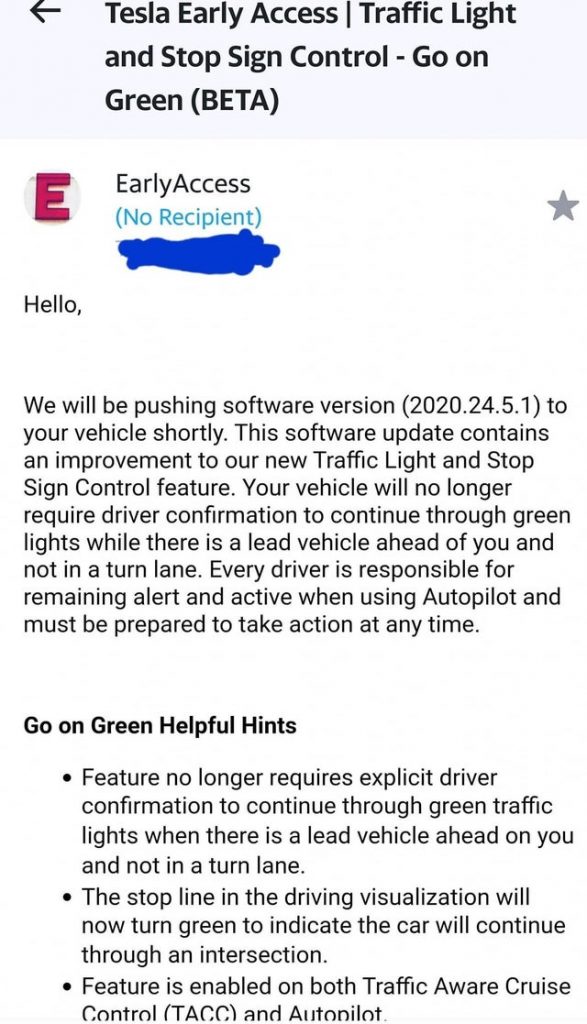 Tesla had just started to roll out version 2020.24.5 software update yesterday, which allows user to turn on side camera views on the main dashboard when turn signal is on.
Now this latest 2020.24.5.1 update has started rolling out all over the country, including Mississippi on a Model 3…
on a Long Range Model 3 in Texas…
On a Model Y in California…
And on a Model 3 in San Francisco, CA
The official tesla software update version is the 2020.24.5.1 8971f7ae36b5.
Tesla 2020.24.5.1 Release Note
Traffic Light and Stop Sign Control (Beta)
The Traffic Light and Stop Sign Control feature no longer requires explicit driver confirmation of pushing down the gear selector to continue straight through an intersection for green lights when there is a lead vehicle ahead of you. The stop line in the driving visualization will now turn green to indicate the car will continue through an intersection.
Please continue to pay attention and be ready to take immediate action, including braking beacause this feature may not stop for all traffic controls. This feature will not attempt to turn through intersections but over this, as we continue to learn from the fleet, the feature will control more naturally.
Driving Visualization Improvements
The driving visualization can now display additional objects which include stop lights, stop signs and select road markings. The stop sign and stop light visualizations are not a substitute for an attentive driver and will not stop the car. To see these additional objects in your driving visualization, tap Controls > Autopilot > Full Self-Driving Visualization Preview.
Backup Camera Improvements
You can now view video streams coming from your side repeater cameras for added visibility around the vehicle.
When the backup camera is visible, simply swipe to display the repeater camera video feeds.
Dashcam Improvements
To make Sentry Mode videos easier to review, we have added a red dot along the video scrubber to indicate the moment when a Sentry Mode event was triggered. When playing a Sentry Mode video, the Dashcam Viewer will skip ahead and begin playback right before this point.
Walk-Away Door Lock Improvements
You now have the option to disable Walk-Away Door Lock when your vehicle is parked at Home. Tap Controls > Locks and select "Exclude Home."
Note: To save a home location, tap Navigate > Set Home.
On-Route Battery Warmup
Your vehicle will now precondition the battery when navigating to third party fast charging stations, in addition to Superchargers. As usual, you can find a list of nearby third party charging locations by tapping on the lightning bolt icon on the bottom of your touchscreen.
New Language Support
You can now select Portuguese as your language. To update your language setting, tap Controls > Display and select the desired option from the Language drop down menu.
Note: Your vehicle must be in PARK to change languages.
Cabin Camera
Help tesla continue to develop safer vehicles by sharing camera data from your vehicle. This update will allow you to enable the built-in cabin camera above the rearview mirror. If enabled, Tesla will automatically capture images and a short video clip just prior to a collision or safety event to help engineers develop safety features and enhancements in the future. As usual, you can adjust your data sharing preferences by tapping Controls > Safety & Security > DATA SHARING > Allow Cabin Camera Analytics.
Note: Cabin camera images and video clips will not be associated with your VIN to protect your privacy.