The latest 2020.20 Telsa software update began rolling out just over a week ago, and now Tesla engineers has started to roll out the bugfix update to this update with version 2020.20.1 software update.
We are seeing this update for various Tesla Models, including Model S in England and Model 3 in California. So this is not a region or model specific software update.
The main features for this update include the following:
Bethesda's Fallout Shelter
Theater Improvements
TRAX Improvements
Here's some preview of what the game would look like for you to enjoy in your tesla.
The official tesla software update version is the 2020.20.1 552e77693750.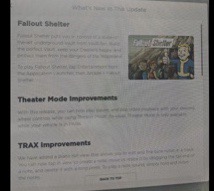 Tesla 2020.20.1 Release Note
Fallout Shelter
Fallout Shelter puts you in control of a state-of-the-art underground Vault from Vault-Tec. Build the perfect Vault, keep your Dwellers happy, and protect them from the dangers of the Wasteland.
To play Fallout Shelter, tap Entertainment from the Application Launcher, then Arcade > Fallout Shelter.
Theater Mode Improvements
With this release, you can now play, pause, and skip video playback with your steering wheel controls while using Theater Mode. As usual, Theater Mode is only available while your vehicle is in PARK.
TRAX Improvements
We have added a piano roll view that allows you to edit and fine tune notes in a track. You can now tap in view to create a note, move or resize it by dragging the tail end of a note, and delete it with a long press. To play a note sound, simply hold and move the notes.
In addition, when you tap the record button, a metronome beat will play to make it easier for you to record at the desired time.
This release contains minor improvements and bug fixes.