According to a Chinese media report, there was possible insider leak that reported Volkswagen will become the largest shareholder of Guoxuan High-Tech Co. (国轩高科) by purchasing 30% of shares for $740M USD, and will further become the controlling shareholder of Guoxuan High-tech over the next 3 years. This plan reportedly has been approved by Volkswagen's board of directors. The two companies had discussions of a 20% stake back in January 2020.
The news led to a "limit-up" in trading for Guoxuan High-Tech in yesterday's trading, gaining over 10% on this rumor. In Chinese stock market, the price of any regular stock can only increase or decrease for 10 percent relative to the previous closing price.
Due to this volatility, the Shenzhen Stock Exchange issued a letter of concern to Guoxuan High-Tech asking for clarification on the rumor whether the Volkswagen Group will become the company's largest shareholder. In the same letter, the Shenzhen Stock Exchange also raised the concern of possible insider trading.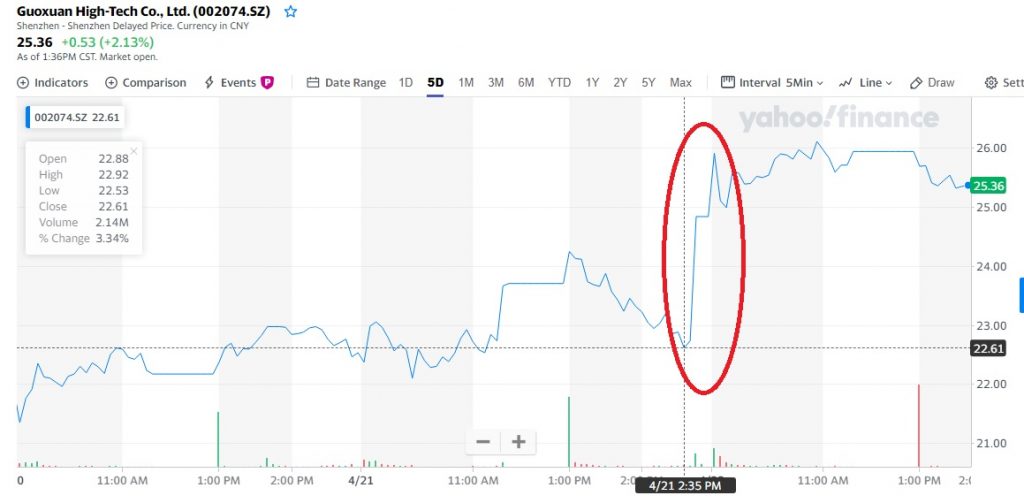 Guoxuan High-Tech EV Battery
Guoxuan High-Tech is one of the top three EV battery manufacturers in China, along with BYD and CATL, together they make up about 79% of China's EV battery production.
Notably, Audi ran into battery supply shortage issues earlier this year. With a controlling stake in Guoxuan High-Tech, Volkswagen will be vertically integrated in their supply chain and should have less production shut downs due to supply shortages.
The acquisition would also help solve supply issues for all their future EV models. Volkswagen owns many car brands like Audi, Lamborghini, Bugatti, Porsche, Bentley and Skoda. Upcoming EV models such as the ID.4, E-Tron, and Taycan could all benefit from this acquisition.
Source: Sina