The VW ID.Buzz has been a concept since 2017, but a new revelation indicates that the electric minivan will reach U.S. markets by 2023.
It is also said that the U.S. will only see the passenger variant of the Buzz, with cargo versions being limited to global markets.
The 2024 ID.Buzz will arrive in the U.S. from the company's facility in Hannover, Germany.
The Volkswagen ID.Buzz concept has come a long way since it was originally revealed at the 2017 Detroit Auto Show. Some new information is now emerging on this EV, particularly concerning VW's American ambitions with this electric minivan.
Car & Driver cites Volkswagen's head of commercial vehicles division, Carsten Intra, saying that the ID.Buzz will reach American shores from VW's factory in Hannover, Germany, by 2023. This would reportedly be a year after the electric minivan hits European markets.
The VW executive also said that the ID.Buzz will be sold in two variants – passenger and cargo. However, the U.S. will only see the passenger variant, while cargo versions will be limited to Europe. It is also said that the U.S. will see the high-end versions of the vehicle, while customers in other markets will have some cheaper options.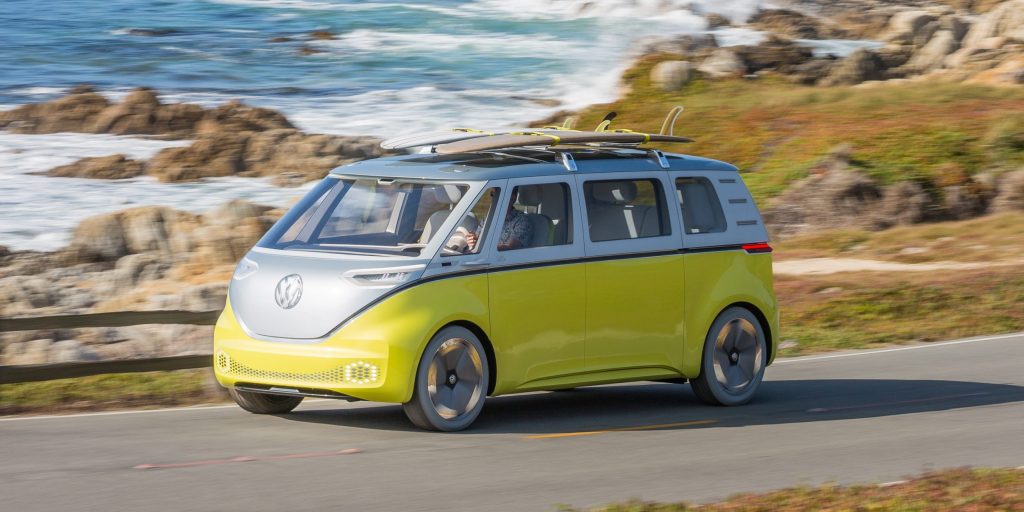 This means that the U.S. will likely see the dual-motor all-wheel-drive variant of the ID.Buzz with approximately 300 horsepower. Although Volkswagen will eventually bring an autonomous version of the Buzz, the report says that it is unlikely to reach the U.S. either. In any case, VW is only expected to bring the autonomous Buzz variant a few years after the initial models arrive.
There is no information on other factors of the Buzz, such as powertrain, precise range, etc. However, the automaker is expected to offer more details on this as we inch closer to the unveiling of the EV sometime in 2023. Interestingly, a recent report indicated that the Buzz could cost under $50,000 when released.
We're curious to witness the changes that VW is going to make to the final version of the Buzz as compared to the concept that was shown off four years ago. As the ID.Buzz is a concept name; Volkswagen will likely rechristen the EV under a different name before its commercial release.
What do you think about the VW ID.Buzz?
Source: Car & Driver
Via: AutoBlog