Porsche's newest addition to the Taycan lineup, the 4S has officially hit the American markets.
Associated dealerships are expected to begin deliveries of the vehicle over the next few days.
This car is rated to have the highest EPA range (203 miles) when compare to Taycan Turbo and the Turbo S.
Porsche has officially launched the entry-level model from the Taycan series in the U.S. known as the Taycan 4S. It is said that vehicles have already started hitting dealerships in some parts of the country.
---
---
This is the third vehicle from the Taycan lineup to make its way to the region after the Porsche Taycan Turbo and Turbo S. The Taycan 4S is priced at $109,370 MSRP which makes it a more affordable variant compared to other Taycan models.
Also worth mentioning is the fact that this vehicle has the highest EPA certified range of any other Taycan model selling in the country. Official figures suggest that the Taycan can run for up to 203 miles on a single charge despite the fact that it uses the same 93.4 kWh battery from previously available models.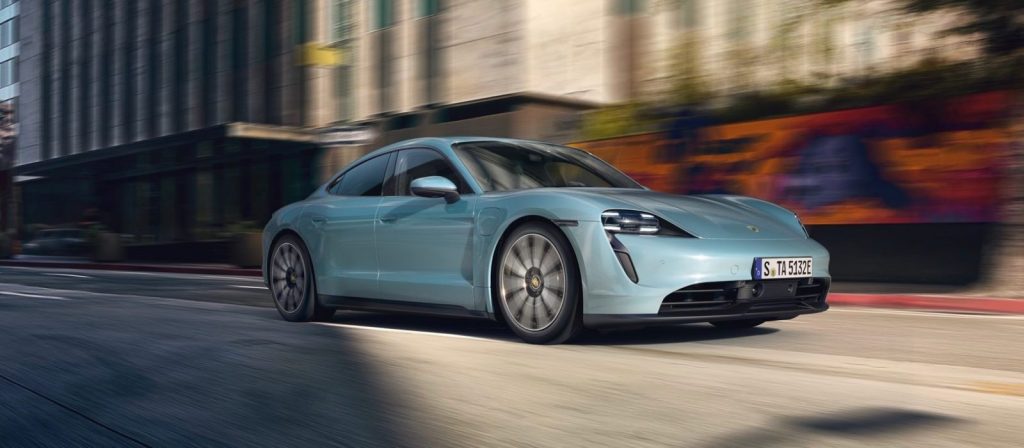 The range is not too far off from the Taycan Turbo, however, which manages to offer 202 miles on one charge. Some believe that the EPA figures are somewhat low and that customers will find more mileage during regular usage.
Porsche dealerships will start making deliveries of the Taycan 4S in the next few days, while there's also the option of contactless home delivery.
President and CEO of Porsche Cars North America (PCNA), Klaus Zellmer said – "The new Taycan 4S sits right at the heart of our electrified model line-up, delivering the effortless performance and engaging dynamics expected of a Porsche sports car with the space and connectivity that make it viable for everyday use."

"Even in these challenging times, it is a credit to our dealers that they have developed innovative ways to support our customers. This means the first of the Taycan 4S's to arrive here in the US will be delivered by our dealers to awaiting customers in the coming days."
EV sales have seen reasonable growth over the past few months, and some markets appear to have done well despite the coronavirus pandemic. Manufacturers are expected to ramp up production of electric vehicles heading into 2021 with multiple new offerings expected to hit the market.
What do you make of the Porsche Taycan 4S?
Source: Porsche
Via: InsideEVs