After partially revealing some aspects of the EQS some weeks ago, Mercedes-Benz has now fully unveiled the EV.
The EQS is the automaker's first fully electric car to reach the United States.
The EQS will be available in single and dual-motor versions with the ability to run for up to 475 miles on a single charge.
The Mercedes-Benz EQS has been teased for a while now. The manufacturer officially revealed the EV a few weeks ago while promising a proper unveiling later.
Well, that happens to be today, with the German automaker officially unveiling the EQS in the flesh along with official photos. The company will offer the EV in two variants known as the EQS 450+ and the EQS 580. With this announcement, the EQS becomes the first fully electric automobile sold by Mercedes-Benz in the U.S.
Though pictures of the EV have been available previously, we're now getting a better look at what the EV has to offer. The top-end model of this luxury sedan (EQS 580) will churn out 516 horsepower with the ability to touch 0-62 mph in 4.1 seconds. The top speed for both models of the EQS is said to be 130 mph. Both variants will run for 770 kilometers according to the WLTP standard which translates to around 475 miles of range.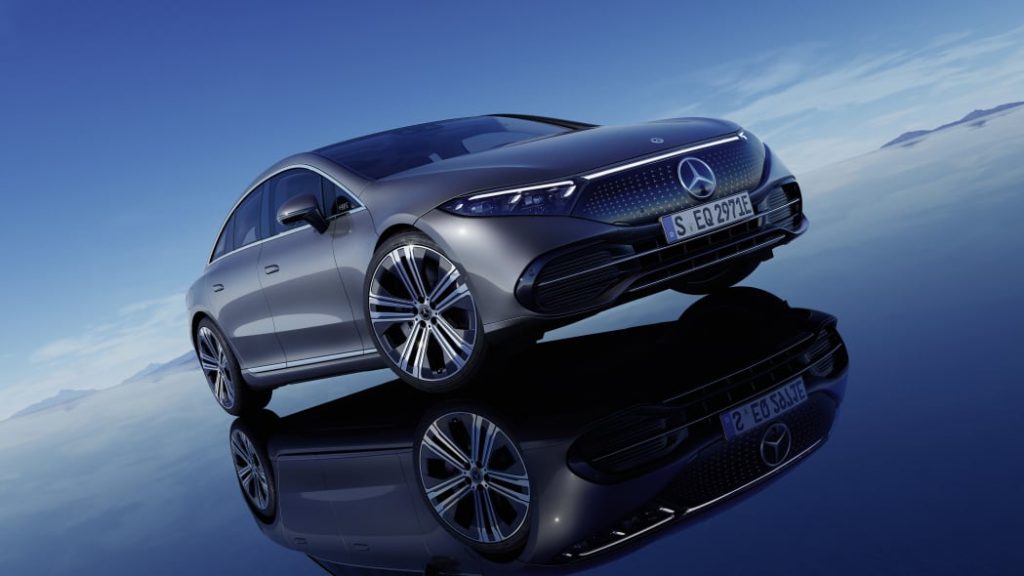 The EQS 580 model will use a dual-motor configuration with 516 horsepower and 611 lb-ft of torque. Meanwhile, the EQS 450+ is the single-motor variant and generates 329 hp and 406 lb-ft of torque. Expectedly, this version will have a slower 0-62 mph acceleration at 5.5 seconds.
The '+' in the EQS 450+ reportedly signifies 'long range,' indicating that a variant with a shorter range will be announced imminently. Other features available for the customers include adaptive cruise control, lane centering, blind-spot monitoring, automatic emergency braking with pre-collision assist, and a few others generally offered with the company's S-Class automobiles.
The EQS will also offer integration with Android Auto and Apple CarPlay, while the large dashboard display panel dubbed the "MBUX Hyperscreen" will be a key highlight for many.
The company went into good detail about this particular aspect of the EV not too long ago. This setup consists of OLED displays and a 56-inch glass surface offering an extremely futuristic look.
Though Mercedes-Benz or Daimler didn't disclose pricing information, the EV will likely cost well beyond $100,000. The expected AMG variant of the EQS is expected to be priced even higher.
Here are some newly released pictures of the EQS sedan:
What do you make of the Mercedes-Benz EQS? Let us know in the comments below.
Via: Autoblog