Hyundai has announced a new sub-brand known as IONIQ which will produce high-efficiency EVs starting in 2021.
The cars will be known as the IONIQ 5, IONIQ 6, and IONIQ 7 consisting of two SUVs and one sedan respectively.
Hyundai hasn't shared detailed specifications of either vehicle, though more information is expected to follow in the months to come.
Hyundai IONIQ is a relatively popular vehicle that is available in ICE, PHEV, and fully electric models. The South Korean automaker has now announced a major shakeup by launching IONIQ as its own brand. The company also announced that it will launch three new EVs under this moniker. Although there aren't enough details on what the three cars will bring to the table, we do know that they will be known as the IONIQ 5, IONIQ 6, and the IONIQ 7.
---
---
Hyundai clarified that odd numbers represent larger cars such as SUVs or crossovers while even-numbered IONIQ models will mostly be sedan or performance vehicles. We can see all three cars lined up together in this concept image posted by Hyundai.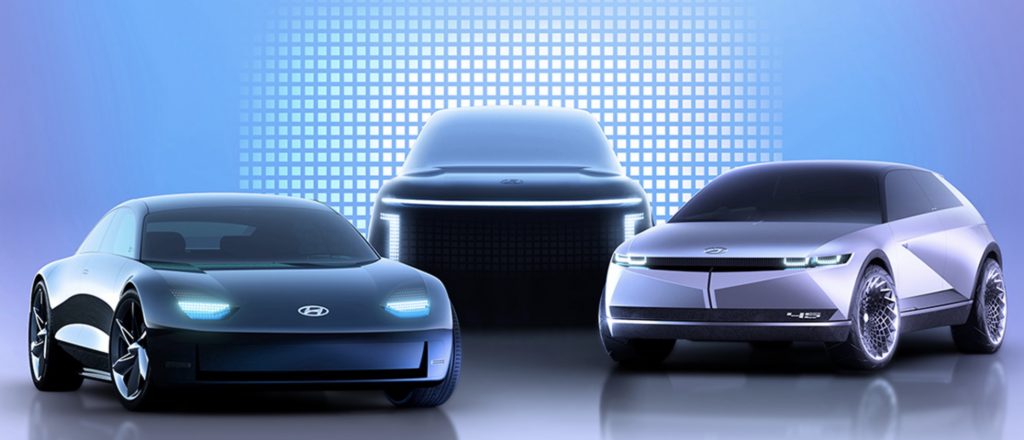 Here's what Hyundai had to say about the IONIQ 5 – "IONIQ 5's designers took inspiration from the past and integrated it with cutting-edge parametric pixels, a unique design element that Hyundai designers will continue to incorporate into future IONIQ models." The company added that this will be a midsize CUV based on the 'concept EV 45' and will be the first of the new IONIQ family to hit the markets sometime in 2021.
As for the IONIQ 6, this will be a performance sedan that the company will reportedly bring to the market by 2022. The company also said that this will be based on the Prophecy EV concept showcased previously.
The third of the lineup, the IONIQ 7 will be a proper electric SUV and will reach the markets by early 2024, the company said. While there are no images or even a concept of the IONIQ 7 right now, we are given a glimpse of its front grill in the concept posted by Hyundai.
What do you make of Hyundai's new EV strategy? Let us know in the comments below.
Source: Hyundai
Via: Electrek