Ford has unveiled its new hands-free driver-assist system known as BlueCruise.
This driver-assist feature will serve as an alternative to Tesla's Autopilot and GM's Super Cruise.
Ford said BlueCruise would be available as an optional upgrade on the Mustang Mach-E and the Ford F-150.
Ford has officially unveiled its competitor to Tesla Autopilot, calling it "BlueCruise." The company said that it would send this driver assist feature as an optional upgrade to Ford Mustang Mach-E customers later this year. This will likely replace or complement the Ford Co-Pilot360 that is offered with the Mustang Mach-E.
"BlueCruise is an SAE Level 2 driver-assist technology, similar to Tesla Autopilot but with the advantage of offering a true hands-free driving experience while in Hands-Free Mode that does not require a driver's hands to stay in contact with the steering wheel, unless prompted by vehicle alerts," Ford said in a press release today.
The automaker also detailed how this feature differs from GM's Super Cruise or the Tesla Autopilot.
"And unlike other approaches – such as GM's Super Cruise, which uses red and green lighting, or Tesla's Autopilot, which requires a driver keep their hands on the steering wheel – BlueCruise communicates with drivers in different ways. The instrument cluster transitions to communicate that the feature is in Hands-Free mode through text and blue lighting cues, effective even for those with color blindness," Ford said.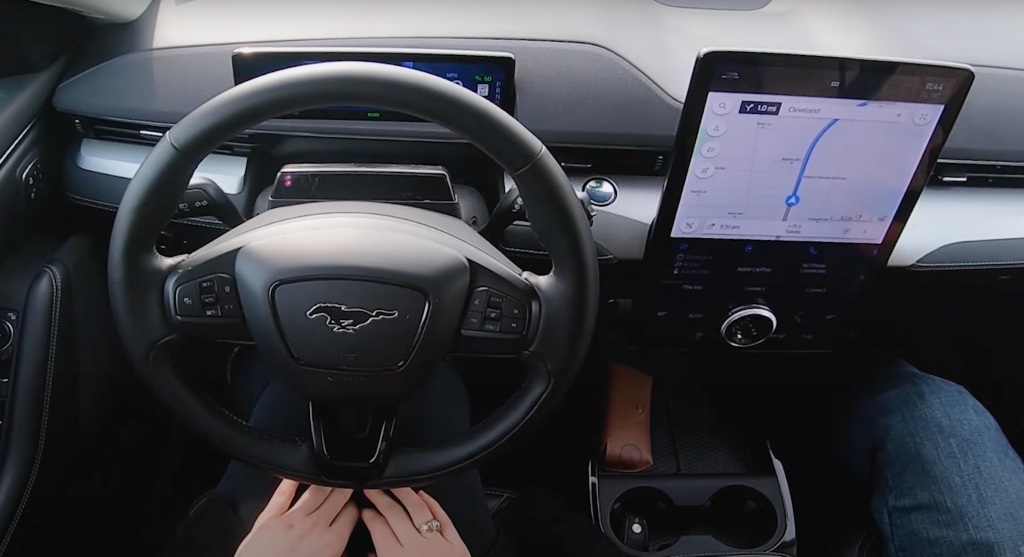 Customers will be able to access BlueCruise on highways designated as "Hands-Free Blue Zones." Additionally, this feature utilizes the driver-facing camera to monitor road attention. This cannot be disabled and is required to use this feature.
Ford even sent out a Mustang Mach-E on a road trip to demonstrate how this works with a video now uploaded on YouTube detailing the trip. The Mach-E traveled through 37 U.S. states and five Canadian provinces (110,000 miles) to challenge the new driver-assist system.
Ford said that BlueCruise would be available for Mustang Mach-E and non-electric Ford F-150 customers later in 2022, though no specific date was mentioned. BlueCruise will be available with the Select trim for $3,200 and is also included with the company's Comfort and Luxury package. If you already own the required hardware, BlueCruise will cost you $600 for three years.

Customers who purchase the BlueCruise add-on will receive the update sometime in the second half of 2021, and Ford added that it would send more updates in the future to make the feature even better.

Do you think this feature can hold its own against Super Cruise and Autopilot?

Via: Ford

[ajax_load_more single_post="true" pause_override="true" single_post_target=".inside-article" post_type="post" scroll_distance="-200" single_post_taxonomy="post_tag" single_post_order="previous"]