Canadian electric scooter manufacturer Daymak has unveiled the Spiritus EV with a three-wheel design and impressive hardware underneath.
The EV will be sold in two variants: the Spiritus Deluxe and Spiritus Ultimate, with the latter being the high-end model.
The manufacturer went on to say that the Spiritus Ultimate can touch 0 to 60 mph acceleration in just 1.8 seconds.
Canadian manufacturer Daymak has announced its first-ever three-wheeled electric vehicle, known as the Daymak Spiritus. The company mentions that Spiritus is the "world's fastest three-wheel electric car." It's worth noting here that Daymak is not taking this to production anytime soon, so they can be deemed only as exciting concepts for now.
The manufacturer mentions that the Spiritus will be available in two performance models – Deluxe and Ultimate, with the former being the entry-level version. The high-performance Spiritus Ultimate can apparently offer a top speed of 130 mph, whereas the Deluxe is said to have a top speed of only 85 mph.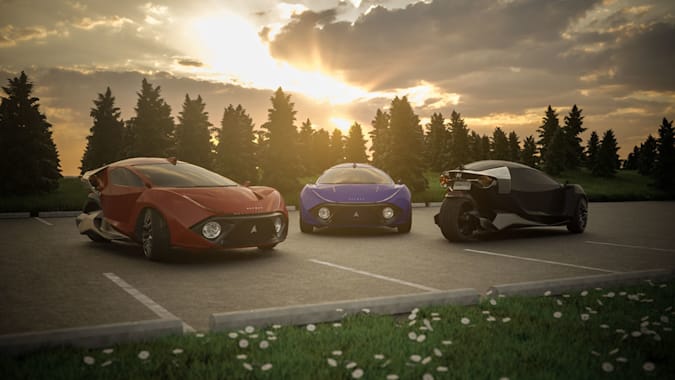 The company mentions that the Spiritus Ultimate uses an all-wheel-drive design offering 147 kW (197 hp) of power while running for up to 300 miles using the 80 kWh battery onboard.
On the other hand, the Deluxe model offers 75 kW (100 hp) of power, while the battery inside is said to be a smaller 36 kWh unit that can reportedly offer 180 miles of range. However, the company didn't clarify if the Spiritus Deluxe will be sold in front or rear-wheel-drive versions.
More impressively, the Spiritus Ultimate can reportedly touch 0 to 60 mph in just 1.8 seconds, beating some powerful cars in the market right now. Meanwhile, the Spiritus Deluxe can go from 0-60 mph in 6.9 seconds.
All models of the Daymak Spiritus will reportedly include four airbags, scissor-style doors, built-in alarm systems, a solar panel that can be utilised for trickle charging, and three-point seat belts. The Ultimate variant also adds wireless charging, autonomous driving, a carbon fibre body, automatic opening doors, and a better traction and suspension system.
Now for the exciting part – the price tag. Daymak says that the Spiritus Deluxe will be sold at a promotional price of $19,995 whereas the more powerful Spiritus Ultimate will set customers back by a whopping $149,995.
Daymak is currently taking $100 deposits in the form of reservations, while the Spiritus Deluxe and Ultimate will reportedly arrive sometime in 2023. For those unaware, Daymak is a well-known electric vehicle manufacturer known for mobility and electric scooters in Canada.
Via: Engadget